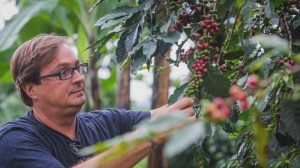 My trip revisiting the Guatemalan Coffee Cordillera started on October 18th from the small forgotten town of Champerico in the Northern Western Coast of Guatemala.
This is not far from the Mexican Border and it took me 3 hours to reach the heights of the San Marcos District and into the small Pueblo of San Pablo, same place I visited back in February this year.
There, the Coop Agronomist of Cooperativa Agricola de San Pablo, a FEDECOCAGUA affiliate received and hosted me thru the community and coffee plantation visit.
After driving up the mountain to s small indigenous community we reached the first plantations, small 2 – acre properties, the same place visited and reported last February.
The change was evident; first I visited Don Julio plantations, there we saw a lot of new plants, some pruned and other varieties which recovered very well after the anti Roya fumigation applications.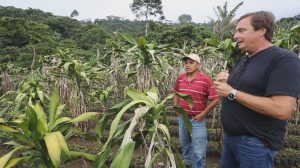 Here, FEDECOCAGUA implemented the "Fumigation Squad", Brigada de Fumigacion, where trained spray technicians applied anti Roya chemicals in all Coop member properties.
FEDECOCAGUA also delivered 25.000 seeds of different varietals for replanting, this since last May and again for Next may field plantings.
Visiting the nursery was very enlightening as I was able to confirm these families commitment to saving their future crops and even plant beyond the current total area.
The Independent producers had very little or no action made in their properties and the visual difference between treated trees and non-treated was more than evident.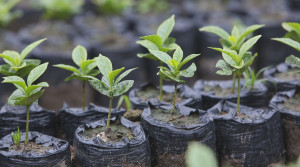 Still about 35% of the properties will suffer yield/production reduction this year, this due to non-treatment, pruning, eradication and replanting.
The sounder trees which were treated had a lesser yields than normal and carried sound looking fruits, mostly green but showing already a healthy transition towards ripe.
This is a very good sign as I did detect roya in most treated and new leaves, the difference is that after the proactive management and fumigations, the fungus is under control in these plants and areas.
Unfortunately, it is taking the other half of independent producers too long to react, lack of government funding and non-alignment with the Coops, has left them outside the solution zone.
Some are going into the plantations and pruning , others are still waiting to collect the minimal quantity of fruit hanging.
This same general scenario is noticed thru the whole region as I stopped many times during the route.
I did not notice any action or support by the private exporter sector in this area, on the other hand, ANACAFE has been extremely active in training, promoting solutions and management programs.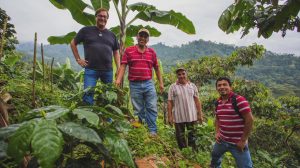 Local newspapers, daily radio programs, cartoon like brochures and posters are all around explaining in a graphic way, the effects and how to fight the Roya.
My conclusion about this important district is that although the Roya impact was very severe back in February/13, the dynamic and well-orchestrated reaction has established a strong promise of success for the near future.
I left San Pablo with a renewed inspiration and belief that this is in fact a committed coffee people and institutions and that the actions taken have been extremely effective and efficient!
In the next Episode, I drive from the San Marco Region and into " Traditional Atitlan " Region, a delightful experience
Category: Archives, Industry News, WD News