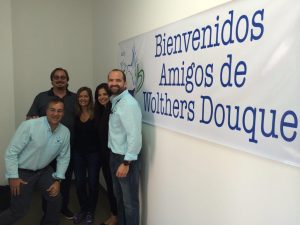 It was great to catch up with Jaime Fortuno at this year's SCAA Conference in Seattle.
During our meeting, we planned for my visit to the "Enchanted Island" of Puerto Rico and it's coffee plantations under the Café Zumbador project.
Jaime, his wife Susan Seitzer and Lester Marin and wife Gretchen are the Co-Founders of Café Zumbador, their families have been farming Puerto Rican lands for generations.
Zumbador is the Spanish word for the Humming Bird.
Puerto Rico is located in the West Indies just East of Dominican Republic. Coffee has been grown there since 1736, In 1898, Puerto Rico became an America Territory.
Café Zumbador is a selection of farms located on the highlands of the Cordillera Central, today the program produces just under 3000 bags of 100 lbs each.
The farms specialize in old-style varietals such as Bourbon and Puerto Rico Typica-401, modern plants such as Caturra and Catuais have also been introduced.
All lots are formed by max 40 bag preparation lots being; Pulped-Natural, Natural and Full Washed.
The flavor profiles vary from sweet with noticeable acidity, creamy and clear to chocolate, full bodied – light floral and tangerine citric, scores range from SCAA 85 and up.
These high quality coffees are rare as the Island produces no more than 80.000 bags per year and consumes three times that volume having to import roasted coffee with lower grade from other origins to satisfy the local demand.
During my three day visit to the coffee lands of PR, Jaime did a great job in explaining and showing the high level of expertise and investment applied to produce and deliver the best coffee.
Jaime even had the opportunity to guide me thru some lakeside plantations in a SUP (Stand Up Paddle) coffee farm safari, it was an unforgettable experience.
I am also convinced that the best coffee in the Enchanted Island is also one that speaks for itself in preparation as in flavor profile, and comes from one of the most beautiful places of the planet!
We at Wolthers Douqué are always in the hunt for great coffees of our times, Café Zumbador is certainly one of those, not only for is current achievements but also for the long term strategy towards improved quality and volume growth.
In my opinion, Café Zumbador and its Estates deserve to stand alongside other select high quality, renowned and rare coffees such as Jamaican Blue, Kona Parry Estate, Finca San Sebastian and Monte Carlos Estate.
Visiting Puerto Rico demands serious time to enjoy such immense variety of memorable experiences: the warm hospitality, tropical beaches, Sun and surf, the inland lush forested mountains and valleys, the exotic food and music, then… The FANTASTIC coffee, but only if you visit Café Zumbador.
New crop starts soon so call us for more information regarding availability and shipment period and pricing, this is a rare coffee, don't hesitate to call as soon as possible.
See the short video we have produced showing a bit of my memorable visit to the Enchanted Island of Café' Zumbador.