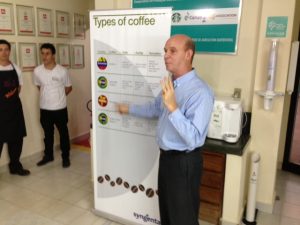 Carmo de Minas has become one of the most prized regions regarding its diverse assortment of specialty coffees. Nucoffee has just taken in a series of new crop Top Scoring micro lots from the Carmo de Minas COCARIVE- Nucoffee competition.
16 outstanding Pulped Natural and Natural preparation coffees of different varieties will soon be shipped arriving mid to late February to the West Coast. We will be featuring these coffees in our Offer List including the SCAA score and the flavor profile description.
During my short stay in Brazil last week, I also visited some "NUCOFFEE" producer workshops in Araguari – Cerrado, drove through the South of Minas and the lower Mogiana as well. This year, the general quality in Brazil seems lower due to rains during the harvest period and also to smaller bean sizes.
As in past years, NUCOFFEE holds the best inventory of Brazilian coffees by preparation and variety; even facing the crop limitations this year will not be different.
We at Wolthers Douqué have jointly selected with Nucoffee, the best coffees of the crop and will receive these by late January to mid-February.
Next week, I will visit Mild Coffee Company in Huila – Colombia and a stop in Bouquete – Panama is also in the program, reports will follow.