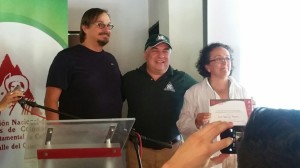 I was invited by the 'Comite Departamental de Cafeteros del Valle del Cauca' to attend and be part of the judging panel on February 16th – 18th 2015 in Tulua.
This was my second trip in less than 5 months to Cali and the Cauca Valley, obviously, the quality of their coffees drove me right back and this time, to buy coffees!
The FNC and the local Valle del Cauca Department organized the 10th Department quality Competition and auction with the intention to show the best coffees they produce.
The Cauca department counts with 5 cooperatives that support producers from 78 districts totaling 26,000 family driven Fincas.
The department has also implemented a "Micro Cuenca "(water spring) Micro lot sustainability program, the Valley counts with 256 mountain springs and 151 have coffee fincas .
The program protects the quality of the spring waters on route down to the Cauca River.
Farmers have to comply with a series of sustainable practices to protect the quality of the water through the preparation process and still produce the highest scoring Micro lots.
As the Fincas comply by managing the water, installing Bio-digesters and decanting, the local Coops and FNC department will grant technical support and go to market opportunity under the Micro lot program.
Micro Lots with exceptional high scores are something very new in Colombia that traditionally produce and commercialize the regional excellent standards of Supremos and Excelsos .
In Tulua, I joined other roasters and coffee specialists from USA, South Korea, Q graders from Colombian export companies and local quality assurance experts, all participating as judges as well.
116 Micro lots participated in the early cupping process that selected 20 finalist lots with more than SCAA 84 points for the international panel of judges to choose the 10 best.
The final lots are all in fact outstanding! I was able to purchase 5 of these, #'s 2 through 6 best and I saw South Korea take the # 1 lot that scored 87.72 at a slightly higher bid.
# 2 from the El Cerrito District was produced by Olga Lucia Quintero Valencia and scored 86.64, it was my preferred anyway so I'm very excited to bring this and the following four lots to the Bay Area.

The information of each of the lots is below and we expect their arrival by early May into The Annex in the Bay Area.