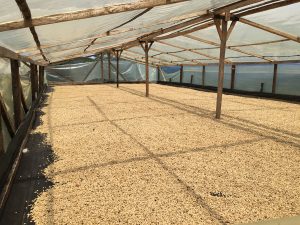 There are definitely still many delayed shipments backed -up in Colombia due to the long truckers strike last June- July, but there is also good news coming from that Origin.
We at Wolthers Douqué and Douqué Group have just returned from a Southern Colombia coffee tour into the various micro Regions that form the Huila Department.
The focus of this trip was to understand the general feeling about the peace treaty ongoing scenario and to learn about the fundamental coffee production and supply issues.
The peace agreement recently rejected in the ballots by a slim margin by the Colombian people is expected to be resolved positively after another series of meetings at the negotiation table.
Most seem to believe the final positive outcome will happen still within 2016 before the holidays, neither part are to engaged in armed confrontation during this negotiation period.
The agreement seems so evident that even local official and private sector segments seem unworried by investing heavily in infrastructure projects and business development including industrial expansion and educational training in all areas.
It's like the Peace Agreement is now far beyond the point of return, at least in the Colombian people and authority's minds.
On the Green Coffee front, the same blue skies are evident, the productivity, weather and quality seem to be progressing hand in hand.
Producers are enjoying a favorable moment during this harvest season as there is plenty of liquidity and demand for their production, prices are also in the better side.
Colombian officials in the area are not making any secret about the 13 to 14 million bags expected for the current crop cycle and the indications confirm those expectations.
The quality is also on the best side of the cupping results, plenty of Regional and National Colombian character with excellent appearance and low defect count.
The internal market seems to be absorbing well the "Passillas" and the rush to ship delayed and new commitments is keeping the trilladoras ( hulling stations ) Mulas (Trucks) 24-7 busy.
Hopefully, delayed shipments will pass the logistic bottle-neck by end of November and our new year will seem fluent as far as Colombian coffees are concerned.
On another note; our "Mild Coffee Company Huila" Quality Competition was a success, it happened in Neiva and the top 10 scoring lots will soon be on their way to USA and Europe.
Winning lot samples will be available through us here at Wolthers Douqué and Douqué NL starting November 15th, please contact us if you have interest on any of the 10 X 50KG (110.23 lbs.) bags.
Best Regards,
Christian Wolthers
Category: Archives, Articles, Industry News, NUCOFFEE News