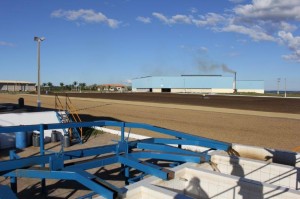 As expected, the last cold front to threat the Brazilian Coffee Belt went through leaving no damages to the coffee plantations.
Now, as the harvest in Brazil is 65% done, its soon time for evaluating the quality of the crop.
The Cerrado zone will probably present its best quality in years as the weather has been especially dry there during the later harvest period.
Fantastic new crop Micro lots will start to be shipped in late September – early October arriving to North America and Europe by late October.
Meanwhile, as the early Fall demand picks up, we have some amazing lots of current crop, accommodated in grain Pro bags, this packing keeps freshness and flavor intensity thru next November/December.
Look into our reduced list of available coffees and call for samples and pricing.
Also see the new NUCOFFEE short film with producer testimonials and explanations about our Specialty and outstanding quality Micro Lot program.
Category: Archives, Industry News