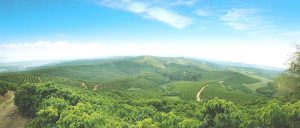 Gathering information from our own team of agronomists on the spot in Brazil and supported by my tour last week through the entire Soft Arabica coffee Belt, we now feel confident to report our findings.
While the Espirito Santo Robusta/Conilon Region suffered in Dec/14 – Jan/Feb2015 the same weather phenomena which happened in the South of Minas last Jan/Feb 2014, other Regions in Brazil did recover strongly under plentiful rainfall this season.
Watch the Video
February and March/15 were the wettest months in a decade for the entire South East of Brazil.
While lack of branch growth during last year's drought period could reflect a substantial loss of productivity for this season, the fertilization, abundant and constant rains, maximized the good flowering which happened last October 2014.
Very little loss of fruit happened after the flowering and hail over plantation zones did not occur in the same proportion as normally when it causes loss of fruit and leaves.
Plants looked quite lush and strong throughout the entire Arabica Regions, even the very high amount of pruned trees after last year's drought, looked rejuvenated and ready to flower next October.
Below, our most actual forecast:
11.4 Total Conilon/Robusta all states
45.6 Million Bags Grand Total /60 KG each for the Brazilian 2015/16 crop cycle
"21.2 bags green per Hectare National production average in this low productivity year/2.15 million Hectares planted area."
This week we will be at the SCAA Convention in Seattle, visit us at booth # 21029 or call our offices for prices and samples.
Christian Wolthers
Category: Archives, Industry News, NUCOFFEE News