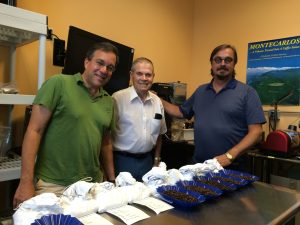 Our good friend Jaime Fortuno from Zumbador Coffee in Puerto Rico visited and cupped some coffee with us this week.
In the Picture, Jaime, Joe Colaciello and Christian.
To learn more about Zumbador, see our video released on May 28th.
Also, take a look at our Offer List for Nucoffee Brazils, Our Colombian Micro Lots and other central American great coffees.
Contact us for samples and prices.
Christian Wolthers