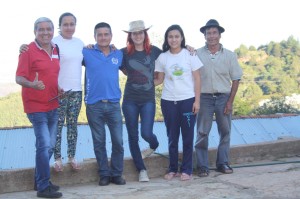 I, Anike Wolthers, had an amazing experience representing Wolthers Douqué as part of the jury in Colombia for the 11o Concurso Departamental de Cafeteros Valle del Cauca that took place from July 21 – 24, 2015.
The contest had 417 coffee producers enrolled, as the final jury arrived on July 21, there were 31 coffees pre-selected by experts from the Comité Departamental de Cafeteros del Valle del Cauca.
The jury was formed by 16 members from different sectors of the coffee industry as well as from different parts of Colombia, few Americans and also Café Nogales from South Korea.
The first 2 days the cupping took place at the Laboratorio de Calidades Cafexcoop (Cafexcoop quality control Lab) and was very intense. We got divided into three groups and all were presented with the same coffees, within the 2 days we all cupped the 31 finalists, graded them and carefully discussed in search of the best cup, not an easy job with so many good beans on the table, for me, it was a true challenge.
By the third and final day we are reduced to 10 excellent coffees from Valle del Cauca, all winners! We now have the 10 best coffees of Valle del Cauca on the table and ready to be sampled; what a fantastic cupping experience!
In name of Wolthers Douqué, I congratulate these producers. We cannot thank them enough for making these outstanding coffee as well as making possible the growth for the specialty coffee industry worldwide.
I am very proud and pleased to say Wolthers Douqué is bringing back to United States the second place winner coffee from Cali, producer Mr. Neftali Fernandez Gomez SCAA score 87.60 from Cafioccidente. A fantastic Arabica micro-lot of a strong character, notes of chocolate, ginger, a nice rounded body and will soon be available here with us at Wolthers Douqué.
The experience to meet Mr. Naftali, his farm, Finca Loma Linda located in the beautiful Municipio de Cali.. Mr. Naftali and his family upgrades my appreciation for this coffee, I was able to see and fell the work and love behind this fantastic cup, also the lightness and beauty of the environment this coffee is produced at, I am really inspired and motivated to show North America a bit about this wonderful producer and his outstanding coffee.
I am also very pleased to inform we will have available at Wolthers Douqué the following:
-Rank #4 from the producer Jose Wilton Giraldo with a SCAA score 87.23, from Tuluá.
-Rank #9 producer Liano Grande, SCAA score 86.52 from Aguida.
-Rank #12 Maria Esperanza Fajardo Pulido SCAA core 86.35 from Caicedonia.
I must thank from the bottom of my heart the La Federación Nacional de Cafeteros de Colombia and the Comité Departamental de Cafeteros del Valle del Cauca for this amazing work towards the coffee industry, this is not only a work moved by monetary means, it is clear the love and passion of all involved in this industry. This event serves as much motivation for all sectors of the industries, from the producers to us; green coffee importers, I can't wait to show off these extraordinary coffees to our clients, you guys are going to love this! I am honored to have participated and I can affirm that part of my heart is now Colombian, a special thanks to Mr. Héctor Posada for an exceptional organization and for being an amazing host; I can't thank you enough for everything and congratulations for being this amazing professional and coffee lover; you make a noticeable difference in the coffee industry.
Also a special thanks to:
Héctor Fabio Cuellar López –Diretor Ejecutivo Comité Departamental de Cafeteros.
Sr.Nelson Gómez Silva- Presidente Comité Departamental de Cafeteros
Dra Eugenia Balanta –Gerente Cafexcoop
Guillermo Carreño Bedoya- Lider de Extensión Departamental
Héctor Posada-Coordinador Programa de Cafés Especiales Cometé de Cafeteros
Ing. Cesar Medina- Gerente Cooperativa Caficentro
Manuel Fernando Peña Peña-Coordinador de Catación
Ing. Alexis Pachón
Sr. Farid Plazas García- Presidente Consejo de Administración
Best Regards,
Anike E. Wolthers
Category: Archives, Industry News