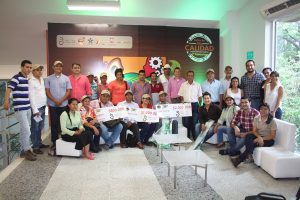 Good morning Wolthers Douqué followers, Anike Ejlers Wolthers once again back from Colombia.
I was in Neiva-Huila representing Wolthers Douqué for the 2nd Concurso Cafés de Alta Calidad sponsored by our partners Mild Coffee Company and hosted in the Universidad Sur Colombiana.
In this trip I learned about a fantastic program that will revolutionize the quality of Colombian coffee. CERSURCAFE (Colombian South Coffee Research Center), a research center of agricultural engineering (Centro de investigación de Ingeniería Agricola) that has recently started practice with a high investment in modern equipment, skilled professionals and focus on the coffee industry.
The Universidad Sur Columbiana (USCO), Professor Edgar Chambers from the University of Kansas (University Distinguished Professor-Sensory Analysis Center Director) and the local producers are together in this research.
The idea behind this investment is to study the chemical composition, the attributes/detriments of different beans as well as educate the producers and improve the quality of Colombian coffee.
About the competition…
Speaking of Huila it is needless to say that we had great coffee.
I congratulate and thank all finalist producers for their hard work and for providing us with full body, well balanced and rich flavored coffees that motivate our mornings, afternoons and evenings every day.
It is an honor to present to you the 5 finalist of the 2ndo Concurso Cafés de Alta Calidad-Huila.
1-Sra. Leonor Gimenez / farm: El Jardin / variety: Caturra / Huila.
2-Sr.Javier Muños / farm: El Penol / variety: Tabi / Huila.
3- Sr. Alberto Palma /variety: Caturra / Huila
4-Luis Andrade C. / farm: Primavera / variety: Colombia / Huila
5-Jairo Vazquez Aya / farm: La Aradita / variety Castillo / Tolima.
Image Gallery
More info at:
http://www.diariodelhuila.com/economia/concurso-de-cafes-de-alta-calidad-premio-a-productores-de-huila-y-tolima-cdgint20150911202141187
Thank you very much Mild Coffee Company, Henny Ossendrijver, Jantien Rutte, Javier Murguerit, Nelson Gutiérrez Guzmán, Professor Edgar Chambers, Hernando Tapasco and all involved in this great event and upcoming research.
Anike Wolthers
Category: Archives, Industry News