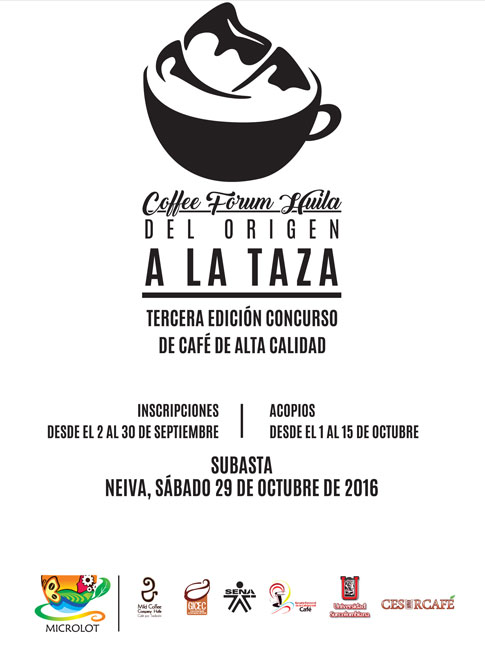 Coffee Forum Huila: ORIGEN A LA TAZA, third edition – Concurso de Café de Alta Calidad.
Auction, Neiva October 29, 2016.
The objective of this event is to identify the top 20 lots from the entire Huila and Tolima Regions, offer these coffees to international quality oriented coffee roasters and create incentives for local producers to continuously invest in high quality and sustainable farming practices and management.
Producers participating in this event are from the four specific Micro Areas; Pitalito, San Augustin, Acevedo and Neiva (Huila).
The participant(s) enter the contest alone or in group, maximum 2 individuals/Finca owners per lot.
The minimum requirements for producer participation are:
– 400 kilos of coffee in 10 units of 40 kilos /88 lbs. bags
– Humidity between 10% and max 11%
– "Broca" must be inferior to 1.5%
– Black bean must be inferior to 1.0%
– Free from dirty cups or any type of defects.
– 100% clean cups.
Only after passing these basic conditions, will the approved coffees follow into next stage/phase of quality attribute grading and cupping.
The top 20 scoring finalists will be selected by a local and International panel of judges -Coffee Specialists/Q Graders/SCAA Certified Graders and Official Colombian coffee Graders on October 26th. The 5 top scoring lots will be recognized and awarded accordingly and all 20 finalist lots will be available and offered at the MCCH Auction on October 29th. This auction will be dedicated to International Roasters and Importers as well as to some Colombian specialty roasters. The auction will take place at the Jose Eustasio Rivera de Neiva Convention Center in Neiva – Huila and all 20 finalist producers will participate to the event.
Click on the image below to see the official rules in spanish:

Come and participate in this event, as a judge, interested buyer, trade representative or press/media professional.
For further information and registration to participate, contact us at Wolthers Douqué.
Category: Archives, Articles, Industry News